In the last few years, the public cloud has entered into mainstream companies' knowledge. Many companies don't want to get into this change, but it's happening. Could is an integral part of many companies' infrastructure strategy and roadmap. However, if you are just getting into these little adventures, you must ask yourself these questions: Which cloud platform should I take? Which cloud fits better my business? How do I get through this process?
To answer the above questions, this article will compare the main infrastructure services between the most popular cloud providers, which are Amazon Web Services (AWS) and Google Cloud Platform (GCP). Also, each cloud platform brings a unique set of tools such as NoSQL, Big Data, Analytics, ML, and many others. This might help you to make a better choice for your business and its technical needs.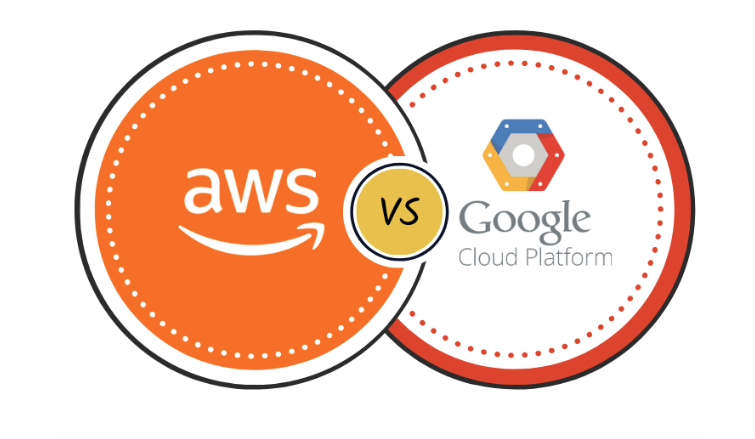 AMAZON WEB SERVICES (AWS)
AWS is the oldest public cloud provider with a vast range of products, compute, and database storage. Amazon's cloud reports 35% growth in the past year with its continuous boots of features. Its latest update provides you with close integration with services such as IAM, KMS, ETC. AWS has strong security and architecture with frameworks such as the Well-Architected and Cloud Adoption. In addition, you can be able to find other unconventional services like SnowMobile, RoboMaker, and Ground Station-as-a-Service.
When to pick AWS
It has niches services such as RoboMaker on one end, and in the other, it builds services such as LightSail which helps even small single server workloads.

AWS brings a wide range of VM types which enable customers to run everything from small website to a huge HPC and SAP.

It has the highest configuration of GPU for a machine learning and AI workloads.

Block storage comes with many options such as dynamics resizing, different dick types.

AWS supports managed databases for MySQL, PostgreSQL, MariaDB, Oracle (both SE and EE), and MS SQL.

For security, AWS has launched DDoS protection and Web Application Firewall among AWS Inspector, AWS Config, and ClouTrail.
GOOGLE CLOUD PLATFORM (GCP)
Google Cloud Platform is generating $8 billion in revenue each year which shows a percentage grows. This is the result of putting some features ahead of its competitors in certain areas. GCP is not just looking into new customers, but also for those that would like to expand their territory to Google as part of a huge cloud strategy. Among innovative features, GCP has the lowest prices on infrastructure compared to its competitors.
When to pick GCP
Google allows users to create their own custom sizes (CPU, memory) since it has the smallest number of VM sizes.

Allows almost all instance types to attach GPUs.

It can turn any standard instance into an ML ready VM.

GCP allows dynamic resizing of disks.

Easy migration from another cloud provider.

It supports managed MySQL and PostgreSQL databases. This means immediate consistency and ACID properties because GCP has a Spanner.

GCP has BigTable which is a petabyte-scale.
CONCLUSION
As you can see above, each cloud appeals to your business needs. Both providers offer common services such as managed MySQL database. Also, you can adopt a multi-cloud strategy by taking GCP for an app that needs Spanner's features, while AWS for your AI services.
If you enjoy this article, you must contact us for more information about which cloud provider fits your business needs.