WordPress is one of the most popular CMS. The roots of this script are based more on a blog than a typical CMS. However, it has been modernized with thousands of plugins.
The e-commerce world has opened an enormous amount of opportunities for many companies today. The growth of the e-commerce market has brought consumers to prefer online shopping. 
Statista states that over 1.8 billion consumers around the world shop online in 2018. The main reason for this growth starts with small businesses getting into the digital world to target more customers. Here is where platforms like WordPress come to make your life easier and simple.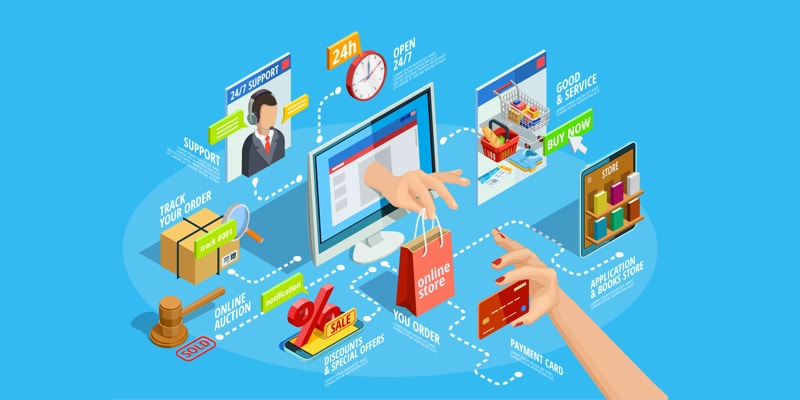 There are more than one-third of today's websites are built on WordPress. The huge popularity of this script comes with the support of an ingenious plugin called WooCommerce. 
 But the big question comes up among the e-commerce businesses…Does WordPress be the right option for your e-commerce? 
This article will answer this question with a list of advantages and disadvantages of using WordPress for e-commerce.
WORDPRESS ADVANTAGES
Free and easy installation of WooCommerce makes many businesses use WordPress because any user, designer, and developer can alter its code.

100% customizable…You have free access to the CSS, HTML, and PHP style code. Here you can customize sections such as header, footer, product sheet, checkout, etc.

WooCommerce's biggest strength is its flexibility because you can create any kind of online shop without worry about its market niche or products. 

The support for multiple currencies and payment methods from any country.

 Analytics is critical for any e-commerce, so WooCommerce has an extension that tracks user activity, events, sessions, product views, and action on a shopping cart.

WORDPRESS DISADVANTAGES
Limited support when things get stuck or wrong with the storefront, you will need a third-party or a developer to get things fixed.

Your theme needs to be compatible with the WooCommerce plugin.

Security and data privacy are the most popular issues since the cybercriminals have target WordPress as its favorite CMS worldwide. 

If you look to keep your website with the latest updates, WordPress gets expensive. 

It can create some problems with your SEO experience such as category and tagging system. 
At Glajumedia, we can empower these advantages and minimize the disadvantages thanks to the enormous experience of our developers.